Language, Literacy
and Numeracy Test
Language, Literacy and Numeracy Test
Australian High Risk Training recognises that language, literacy and numeracy (LLN) skills are fundamental for work and are therefore a significant component of training. Reading, writing, listening, speaking and understanding basic mathematics and comprehension is an integral part of any training program.
As part of the pre-training review process, students are now required to complete an LLN quiz which will be used to assess your LLN abilities to undertake a course.
Australian High Risk Training staff understand LLN skills can vary greatly between students. If you have any concerns with LLN that may affect your training program, we encourage you to discuss these with our administration or training staff as soon as possible.
The assessment must be completed on your own. The result of the quiz will be assessed and if your results do not meet the minimum requirement to gain entry to the course, a training staff member will speak to you about options for LLN assistance you may be able to access.
Please note: The preferred browsers are Google Chrome and Safari. If you are using Internet Explorer or Firefox you may have issues with scrolling. Please use the zoom out function on your browser to view the full screen.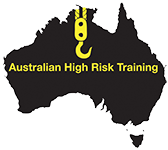 Training Today for a Safer Tomorrow